The Ultimate Ice Maker Buying Guide
Ice making machines are an important accessory in a food service business. Ice greatly complements drinks such as water, tea, or soda. Most drinks only taste great if they are laced with ice. In case you operate an establishment that sells food and beverages, it is advisable that you purchase a commercial ice maker. Ice machines also come in handy whenever you are out camping, tailgating, or boating.
Factors to Put into Consideration When Buying an Ice Machine
Finding an appropriate ice maker can be quite difficult. The availability of numerous models can make it hard for you to choose the most suitable one. For you to buy a machine that suits you best, consider the following pertinent factors.
Speed and Production Capacity
If you run an eatery or a busy establishment, you are advised to choose a machine that is fast and efficient. Manufacturers usually provide the production capacity of all ice makers. Busy facilities that require huge quantities of ice ought to have machines that will produce ice within a short time. This means customers will not be forced to stay for too long while waiting for refills. Most new models come with user manuals, which guide users how long they should expect to wait till ice starts being produced. On average, it takes between 10 and 20 minutes from the time water is added to the machine.
Size and Capacity
It is recommended to buy an ice maker that is portable, and small in size. This makes it easy to use, move and store them. If you intend to purchase an ice maker for household purposes, consider purchasing a small one to save space. Commercial ice makers need to have a bigger capacity than residential ones. In this regard, ensure that the unit that you buy is not too heavy. This will make it easy and comfortable for you to move it from one place to another.
Cost
Ice making machines are affordable appliances, which retail from as low as $100. Higher capacity models may retail at a relatively higher price. Consider high-end models because they tend to last longer than the cheaper ones. More often than less, cheaper machines break down within a short time, particularly when they are heavily used. This might cause you to incur unnecessary replacement and repair costs. If you intend to use an ice maker heavily, consider choosing high-end models. Lower priced appliances are best suited for individuals who intend to use them for domestic purposes. When factoring in the costs, you should also ascertain how intelligent an appliance is as far as water use is concerned.
Ease of Use
Most ice makers are easy to use since they come with user manuals that contain basic usage instructions. These devices similarly have intuitive controls, which make it easy to operate them. They also have minimal installation requirements since an electrical outlet is all that is needed. However, some models are easier to use than others. Certain models also have additional features, which can, for instance, notify you when the appliance is full. Machines that have intelligent water use features are highly recommended due to their convenience. When using them, you are not required to drain unused ice or refill the machine regularly.
Type of Ice Required
This is one of the most significant factors to consider. The machine that you buy should produce the correct type of ice for your clients and guests. Ice makers produce six types of ice. These are a cube, half cube, crescent ice, nugget, flake, and gourmet ice. The type of ice that you give to your customers is quite important. It all goes down to the machine used during production.
Condenser Type
Every ice making appliance needs to have a condenser for cooling purposes. Consider buying air-cooled appliances since they are affordable, energy efficient, and consume little water. On the other hand, water cooled appliances are recommended to individuals whose machine will be located in rooms that do not have ample air circulation. Water-cooled ice makers are disadvantageous in the sense that they consume a lot of water. They are also banned in some areas, which means you should check with local authorities to ascertain whether they are legal or not.
The Appearance of a Machine
Ice makers are an almost permanent feature on the kitchen countertop. This highlights why you should choose a machine that looks good. Its color should complement the colors and finishes of your kitchen. Other extra features that you should consider are self-cleaning, automatic timing, automatic ice size selection, and automatic ice scoop.
Types of Ice Making Machines
In addition to the factors above, it is important that you have an idea about the types of ice making machines that are available on the market. There are two types of ice makers, which means making a choice is quite easy. This choice mainly depends on the quantity of ice that you will need for your occasions. You can either choose to buy self-contained ice machines or modular ice machines.
Self-Contained Ice Makers
These appliances encompass a storage container and an ice maker in one unit. The machines are mostly used for small-scale commercial purposes because they are relatively smaller than modular ones. When you opt for self-contained ice makers, you can either choose a countertop or an under-counter model. These devices are favored by most people because they can easily be fitted into tight spaces. However, their capacity is way lower than that of modular ice machines.
Modular Ice Machines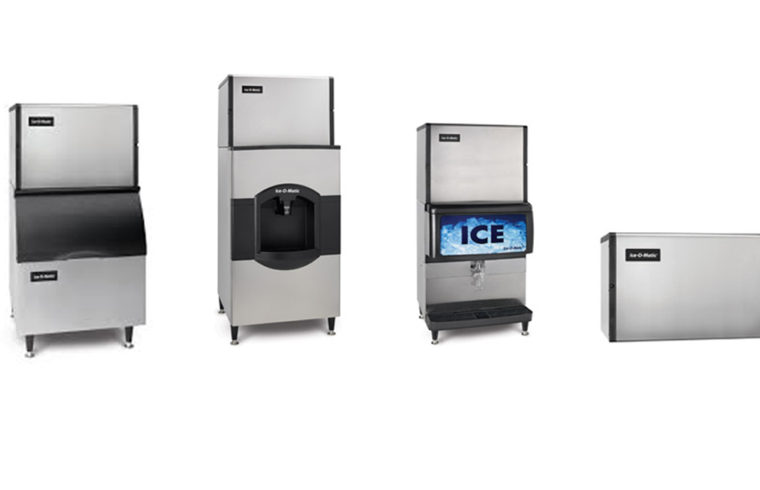 These devices only produce ice. They do not have a storage container, which means that those who buy them ought to buy separate storage bins for storing the ice. Modular ice machines are highly recommended for busy establishments, which require a significant amount of ice. This is because they have a high production capacity. The devices are equally fast and can be attached to a storage unit of any size. Nonetheless, their downside is that they need a lot of storage space.